frequently asked questions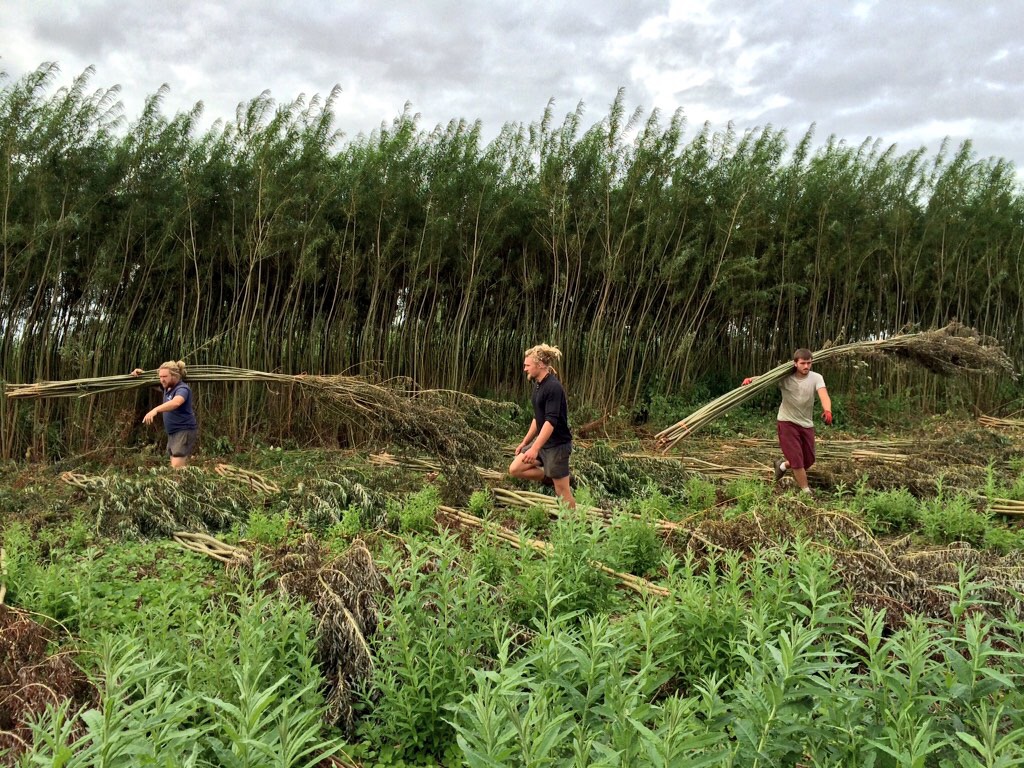 How long do your fences last?
We have fences going into their 14th year now. These fences will have been treated throughout their life (please see "How do I treat my fence? for more information.)
We expect our fences to last at least 10 years. We use very thick and long willow rods to maximise the lifespan and strength of our fence, with each rod's thickness ranging from 2-3 inches. We also use steel uprights within the weave to support the fence well into its life.
How do you deliver the fencing?
All of our fencing is woven in situ. We arrive on site with freshly harvested willow rods and take over the garden for a day or two, but don't worry - we are very careful of special plants and shrubs and like to be as tidy as possible!
Our timber framed panels, gates, arches, dens can be made in our workshop and delivered to site.
Is the willow you use the same as basket willow?
No. We use a hybrid willow grown specifically for biomass, therefore it is much taller, thicker and denser - producing a more durable fence. We harvest our willow all year round and use it green and fresh for each job. Basket willow is mostly very thin and, when woven, is bunched together in a handful to create a thick weave. Basket willow is also shorter, roughly 6-7ft, and is harvested once a year and then stored and re-soaked when it comes to using it.
We are often asked if we soak our willow before using it. As you can see from the image above, soaking this willow wouldn't do much! There is a small amount of pith in each rod, but not enough to soak up water and become malleable. The good thing about this is that there is no chance of the rods hollowing out or becoming brittle.
We advise you treat your fence annually with a 50:50 mix of boiled linseed oil and clear wood preserve. We will happily give you a free quotation for doing this. You can either paint the mix on or use a pump action sprayer. The perfect time to apply the mix is once your fence has time to dry out, usually mid summer. This is because the dried willow will be more efficient at absorbing the mix. A word of warning; be careful with linseed oil, as it can scorch plants and grass.
They can be if it is requested. However, standard practice is that all of our willow is freshly cut for each job but not put in the ground, so there is no chance of the rods sprouting and growing. To make sure our fences aren't "living", we use seasoned willow uprights (not fresh, as this would sprout) or hazel or chestnut uprights.
Living fences and structures are beautiful and we enjoy making them, however, it is important to understand that they are living and they will continue to grow. If not maintained, re-woven and pruned each year the structures will soon get out of control.
Do all your fences come with the twist along the top?
We call this the 'roll top' and we like to finish off our fences with them. We think it is a handsome finishing touch, but if it is not to your liking we can leave it off.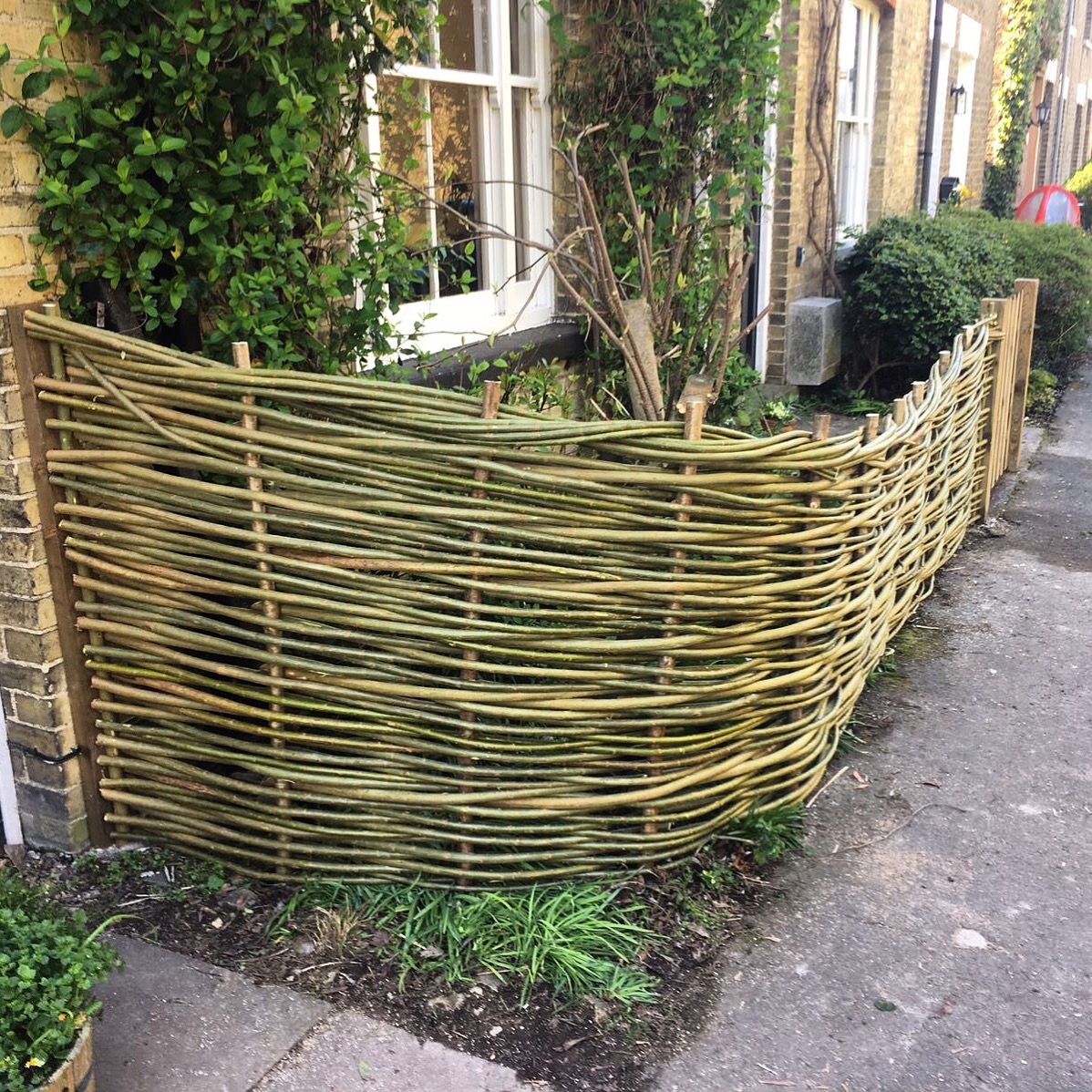 What is the difference between hurdles and your fencing?
Hurdles bought off the shelf will only last for 2-3 years maximum, whereas traditionally woven hurdles will have a longer life span, usually 6-7 years and are made using age-old methods and techniques. We offer continuously woven fencing; a bespoke, stronger and more durable option, with a life-span of at least 10 years. Our fences are woven continuously from where they begin to where you would like the fence to end. Using this technique, we can go with the ground level, weave around trees and flower beds, we can go up and over walls and the fence will have a beautiful sense of something that flows. It also means that you can have more say in the design of the overall fence, for instance, sloping the height of the fence from high to low, which maximises privacy where you need it but reduces the height where you may want to make the most of a beautiful view; we can weave it to your exact specifications. There are no joins in the weave, so no weak points for wind and wildlife to damage it. The way in which the fence is woven means that each willow, or hazel, rod is overlapped and intertwined together making for a solid structure. We also use steel uprights at intervals, which supports the fence.
What is the wood you use to weave with?
We weave with willow. We cut all of our willow from local willow beds which were originally planted for biomass. The willow is a hybrid which grows very tall, very fast and very straight. Willow is a coppice product, therefore, once cut it will grow again. We cut our willow ideally in a 2 year rotation, so the rods that we are using in your fence are between 2-3 years old and roughly 10-15ft long and varying in thickness. The willow used for every job is freshly cut; we cut all year round. Willow is our preference over hazel, however, we can weave in hazel if you would rather. We prefer the look of woven willow; it compliments a wider range of gardens than the more rustic look that hazel gives. Furthermore, the rods we use are straighter than hazel rods, giving cleaner, more uniformed lines. We also see the benefits of using thicker willow rods as it makes for stronger, longer lasting structures as well as defining the beautiful plaits you see in the weave.
No, and to ensure this doesn't happen, we use hazel, seasoned willow or chestnut as our uprights. What we use is dependent on availability and quality. Our hazel and chestnut is harvested by hand from local woodlands, and the seasoned willow uprights are rods that are too thick to weave with. We also use steels as uprights at intervals throughout the fence to increase its long term stability.
Ready to get in touch?
Fill out this form & we will get back to you as soon as possible
WW